Wooden stage blocks can be invaluable in many situations, offering instant staging and support options for any company, school or another group that needs them in Redhill.
Good stage blocks can provide a massive range of flexibility – something we aim to achieve with our range.
Our staging can be used for any theater play where an audience is required; having a good view of the acting can encourage clapping and a standing ovation!
Our stages can come with a backdrop, scenery, props, and lights. Allow your ensemble and supporting cast the curtain bow they deserve with our portable stage blocks in Redhill.
Why Use Us?
We are the UK's leading portable stage block company, boasting over 20 years of experience in the field. Our drama stage blocks are simple, safe and compact, making them perfect for many uses in Surrey.
We have designed unique school staging blocks incorporating a sound absorption solution (SAS). We can offer the quietest portable staging system on the market, which means you will not suffer any unnecessary noise caused by walking on the stage.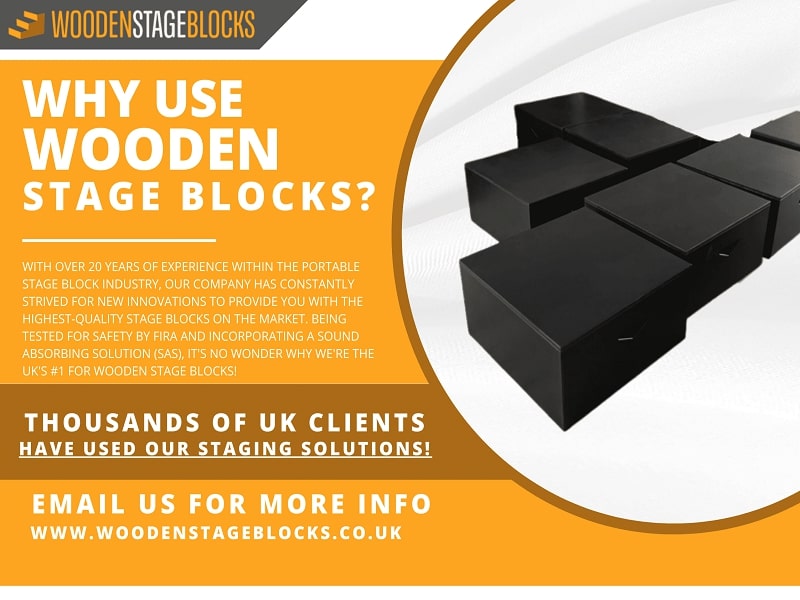 Safety is at the forefront of our core values. We have created a universal lock-in guardrail system to keep pupils, parents and teachers safe when they are singing, dancing and presenting.
Alongside that, all of our Frames have undergone strict testing by FIRA and are certified to BS EN 6399-1:1996 and BS EN 15372:2008 level 2.
We are a market leader drama block distributer throughout the UK and a Member of the Made in Britain Scheme. Every one of our stage blocks is produced within the UK, and we are completely willing to sign off on the quality of our products.
Costs of Drama Stage Blocks
On average, the modular school staging we provide can cost around £300 to £7,000, depending on the project scope in Redhill.
Alongside the number of units you need, this portable staging can vary in price based on a range of features, such as:
Size.
Material.
Features and specific needs, such as wheelchair access.
Tiers.
Stage layouts.
The amount you need us to supply.
Contact our business directly to get a quote for the expected costs of your project. We can discuss the stage options that suit you best, providing a full overview of the costs needed to purchase and deliver the school staging where you need it most in Redhill.
Where are School Staging Blocks Used/Installed?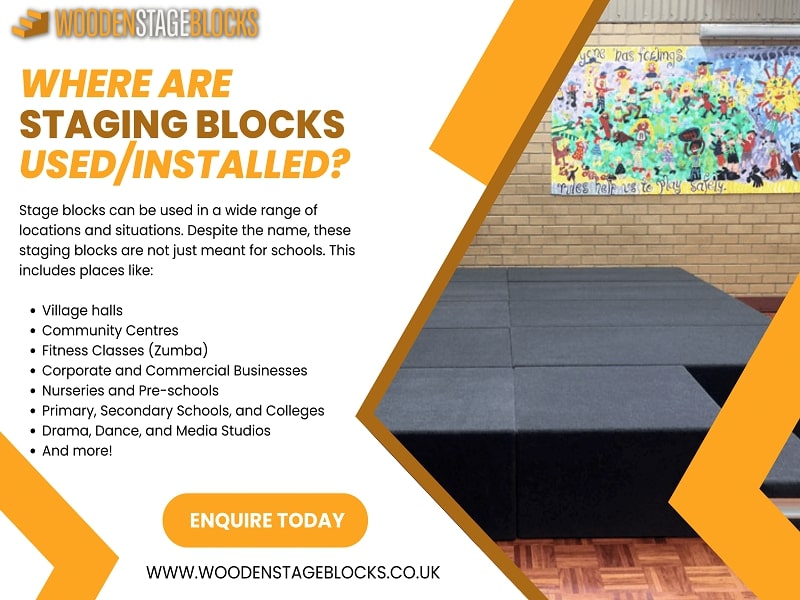 Stage blocks can be used in a wide range of locations and situations. Despite the name, these staging blocks are not just meant for schools. This includes places like:
Village halls
Community Centres
Fitness Classes (Zumba)
Corporate and Commercial Businesses
Nurseries and Pre-schools
Primary, Secondary Schools and Colleges
Drama, Dance, and Media Studios
Places of Worship (Churches, mosques, synagogues)
Outdoor performances & stage productions
Catwalk areas
Temporary performances and rehearsals from theatre groups
Tiered seating for various drama or sports performances
Stage Blocks for Schools
Drama stage blocks can be a useful tool for schools in Redhill, providing high-quality stages that can be stored to free up space.
These are perfect for recitals by younger children, drama student clubs, drama classes, or just as general stages that can be kept in storage until needed.
Stage Blocks for Churches
These drama stage blocks can be configured into various shapes, making them great for churches.
Whether they are used for choir recitals or as conventional sermon stages in Redhill, they are a very practical and reliable option.
Stage Blocks for Sale
We can provide our drama stage blocks as a full-scale option, allowing any of our customers to get hold of a permanent portable stage. We can supply the required blocks to build the stage, catwalk, or raised carpet area.
Stage Blocks for Rent
We can offer a rental option if you are not looking to purchase. Whether for a single week or a much longer period, we can ensure that you get the results you are looking for.
Advantages of Our Stage Block Systems
There is a range of reasons to use our drama stage blocks system.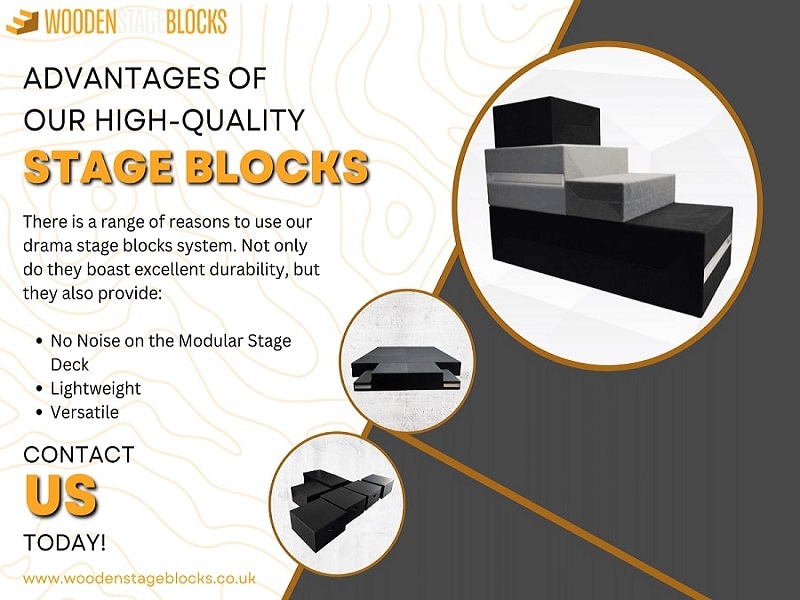 They boast excellent durability and versatility and are perfect for simple storage, and do not consume as much space as a full-scale one-piece stage would.
Strong and Durable
Our wooden stage blocks in Redhill are built into robust frames and covered with high-quality decks. Standard fame can support a huge weight capacity, holding up to 10 fully grown men.
Our stage blocks are sure to last many years of constant use. They are guaranteed against faults in the manufacturing, materials and workmanship for up to ten years after delivery, giving you a lot of protection from manufacturing defects.
We have previously worked with many customers, supplying bespoke stage solutions to companies all over the UK.
This includes local authorities, councils, theatres, schools and hotels, and countless other customers requiring a unique stage design.
No Noise on the Modular Stage Deck
We design each modular stage to provide silent, noise-reducing surfaces that will not interrupt a drama performance or special occasion in Redhill.
They are all constructed to provide a solid frame with a sturdy fill, using a seamless design to make the top carpet surface blend together perfectly.
The drama block staging is also easier to transport, set up, and store. This is mostly thanks to its lightweight aluminium frame and foldable legs, making it simpler to store away and much easier to move – a sign of our painstaking engineering work.
Lightweight
Our unique stage design allows each piece to be sturdy and lightweight simultaneously – something that took many years to perfect. This makes our stages some of the most unique in the UK, offering better durability while also being incredibly easy to relocate.
Thanks to this, you do not have to choose durability and portability as with other staging brands.
Versatile
Our high-quality stage options are surprisingly versatile, allowing you to transform them into almost any kind of platform.
From simple school portable staging to a unique stage design meant for a whole orchestral performance, we can give you the pieces to build your perfect design.
Thanks to the multi-layer functionality, it is possible for you to build raised seating or even platforms with distinct level differences. Whether for professional UK theatre groups or school drama classes, this staging system gives you a lot to work with.
Customer Service
We want to offer the best customer service possible in Redhill. On delivery, our team will explain how to use the staging system, showing you how you can form different designs and use the free-structure design to build your custom staging options.
Our team comprises experts with a lot of experience in multiple fields, with education being a strong point.
We understand what schools need from their staging and will work with you to ensure that your school gets the staging you need without feeling pressure to go over budget.
We can also consider other important factors behind the staging – aesthetics, painted colours, storage and overall quality. We want to ensure that you get the best possible results from the hire options you choose, no matter what you plan to do with the staging.
Care & Maintenance Recommendations
The staging should be thoroughly washed and cleaned after each use with a damp cloth and mild soapy water (ensure the cleaning agent contains no bleach). Do not fill the staging.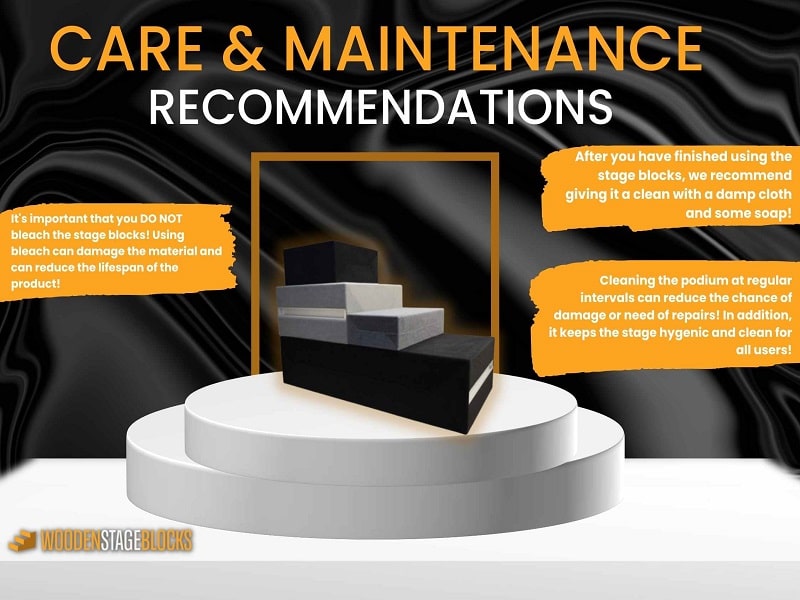 Afterwards, clean the deck thoroughly and let it dry at the end of the day.
Frequently Asked Questions
Are stage blocks the same as drama blocks?
Stage blocks are also drama blocks and are still the preferred stage deck for stage productions throughout the UK.
What is the estimated delivery time?
Delivery depends on the product you get in Redhill. Standard items can usually be delivered in 3-4 weeks, but in some cases, bespoke items can be dispatched in around eight weeks.
Do you ship internationally?
We can ship our products to most locations but focus primarily on the UK. Please get in touch today for more information and to discuss other delivery options.
Get in Touch
We offer a huge range of school stage options in Redhill, most of which can serve many different roles within a single school or across multiple industries. While we market most of our products as school equipment, the truth is that our school staging has seen use all over the UK.
Whether you want painted bespoke designs, a simple stage that you can use, or a range of simple purposes, do not hesitate to contact us and see what we can offer. We will provide a free quote to any customer and free support to any client that needs it.
We aim to provide the best staging options London – and the rest of the UK – can get. The sooner you contact us, the better we can find the best option that suits your needs.
Find More Info
Contact us today for several great wooden stage block services in Surrey.
What Others Say About Our Services
We absolutely love the service provided. Their approach is really friendly but professional. We went out to five different companies and found Wooden Stage Blocks to be value for money and their service was by far the best. Thank you for your really awesome work, we will definitely be returning!
Isaac Marshall
Surrey
We have used Wooden Stage Blocks for many years as they are certainly the best in the UK. The attention to detail and professional setup is what makes this company our go-to company for all our work. I highly recommend the team for the immense work - we highly recommend them!
Oscar Hill
Surrey
For more information on wooden stage blocks, fill in the contact form below to receive a free quote today.